Today I have something super fun to share with you:
Happy Kids Songs
. We've been listening and jamming to these fun songs this summer. For review, we received three sets of songs as well as the
Happy Kids Songs Workbook
.
Each set includes five songs. The sets we received are:
Better Together
The Golden Rule
Sharing Friends
Happy as Happy Can Be
H-O-N-E-S-T-Y
Who Knows What's a Kudo?
Be Good to Yourself
Everybody Wants to Find a Friend
The Magic Word
Quirks
Six Little Kids
Sharing Friends
Together
Sailing on the Seven C's
Shake It Out and Dance
I downloaded all fifteen songs into iTunes on our computer so that I can turn them on as we're working in the kitchen or to have as background noise as the kids are playing. I also burned the songs to a Cd to keep in the car. I've always been big on taking advantage of car time to teach and connect with my kids. (They're my captive audience in the car!) Music has always been a big deal to me as well. We all know how quickly we remember something that is set to a tune and what a powerful tool music is. (A friend's daughter recently sang their address to me. Guess what? I didn't have to write their address down, because I memorized it after just hearing it twice!) The power of music is a great thing but it can also be a negative thing, if the music we are exposing children to glamorizes morals (or lack thereof) and behaviors that are contrary to the values we are trying to instill in them.
My kids range in age from 1-8 and all of them enjoy these songs. (I'll tell you what, that little one year old of mine likes to jig!) They are catchy, fun, uplifting, and totally not cheesy or annoying--even after listening to them a zillion times. :) They have interesting beats and sounds. But what's best of all are the words.
Here's an excerpt from Sailing on the Sevens Cs:
C stands for caring and consideration.
C stands for commitment and communication.
Just add concern, curiosity, and cooperation,
And you've got the creation of the seven Cs.
Here's the chorus from Everybody Wants to Find a Friend:
Everybody wants to find a friend.
Everybody wants to find a friend.
Just say hello. Let "another body" know
That you want to play with them again.
H-o-n-e-s-t-y:
H-o-n-e-s-t-y..."Why?" Yeah, let's repeat it.
H-o-n-e-s-t-y..."why?"...We really need it.
It's one of those greatest gifts that money can't buy.
That's H-o-n-e-s-t-y.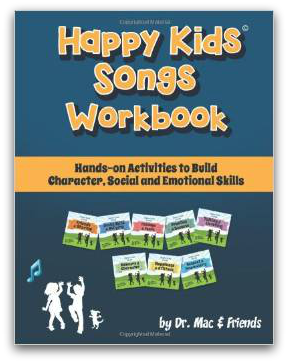 If you want to use the songs in a more structured way, the workbook is a great addition. There are 125 pages of activities, worksheets (coloring pages, mazes, word finds, etc.), and lyrics. This is a great addition for a classroom or for a family devotional. (That's how we've used it.)
Here's an example:
We've had a little problem up in here with little people being kind to their beloved siblings (I'm sure you know nothing about that) so we listened to "Who Knows What's a Kudo?" I explained to them a "kudo" is something true and nice about someone else. As suggested in the workbook, we wrote acrostic poems about one other and then each person read aloud what was written about them. I was surprised to see how they beamed as they read their kudos. After we finished, I continued on with my stuff and was so happy to see my 8 & 6 year old sons remain at the table and write kudos for their cousins.
I can't help but laugh at the fact that my son said I am "zippy fast!" I suppose "Z" is a tough one!
Look how happy he is to read his kudos!
I appreciate what Dr. Mac of Happy Kids Songs has created and find the music and activities to be very enjoyable and beneficial.
Each set of songs is $4.95 and includes a download of 5 songs.
Happy Songs Workbook is $12.56.
To listen to samples of the songs, click
HERE
.
To read more Crew reviews, click
HERE
.