Essentials
from
The Logic of English
is a complete spelling, grammar, writing and reading curriculum. It includes 40 lessons, which cover 74 phonograms and 30 spelling rules. It is targeted for students ages eight and up or from beginner to adult, but it does include an outline and suggestions for teaching students as young as five. The Essentials curriculum outlines a suggested course of study depending on age and ability, ranging from one to two years for completion of the entire curriculum.
For review, we received the following: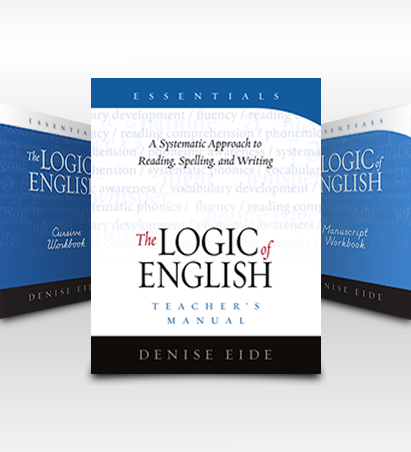 Upon receiving our materials I turned to the introduction and read the pages on six to seven year-old students, since seven year-old Mowgli would be using the curriculum. (There are actually 69 pages in the introduction alone!) For this age range, the outline estimates lessons lasting 30-60 minutes and suggests covering one lesson per week. At this rate, we will complete the entire curriculum in 40 weeks. The lessons are organized into three parts:
Part One: Phonograms, Sounds and Spelling Rules
Part Two: Spelling Dictation and Analysis
Part Three: Grammar, Dictation, Composition and Vocabulary Development
Each lesson begins with a box that clearly shows what is covered in that lesson and indicates what materials you need. This makes for an "open-and-go" style curriculum. There isn't any advance preparation, other than maybe gathering a common household item to use in an object lesson.
The lessons includes optional activities as well. The activities are clearly marked with symbols to indicate whether the activity is kinesthetic, visual, auditory or creative. Some of the optional activities included in our lessons were: to clap or march to the syllables or to draw pictures of all the nouns on the spelling list.
We found that it didn't take us nearly as long as estimated in the curriculum to complete one part of the lesson. (30-60 minutes) Mowgli and I were able to get through one part in about 15-20 minutes, although I did modify the lessons to better meet Mowgli's needs. (More on that in a minute.) Mowgli really enjoyed playing the games with the phonogram game cards like B-I-N-G-O and Dragon, which is similar to Old Maid. Five year old, Bud, joined in on the games with us. I also loved that every once in awhile Bud would shout out an answer from across the room. (Who knew he was even listening?)
So far we have been able to cover: nouns, plurals, adjectives, irregular plurals, non-count nouns, syllables, short and long vowels, consonants and vowels. I think some of the more technical information is a bit over Mowgli's level of comprehension right now, so I don't focus on the titles so much, instead I give examples: "Sometimes you can't add -s or -es to a word to make it plural. Mans is not plural for man, it is men." This would be an irregular plural, but he doesn't know that right now. He just know that there are exceptions to adding -s or -es and that is the important part!
I was very impressed by the clean layout of the text and all of the supplies. Everything we received is of superior quality. The flashcards are made of glossy card stock and are quite durable. The flashcards are used to practice each phonogram and spelling rule. It is suggested that the cards are secured with rubber bands into stacks of cards that have not been introduced, cards that are currently being learned, and cards which have been mastered. I would have preferred the cards be small enough to fit into several index card boxes for better storage and less hassle, rather than having to use rubber bands. All those cards can be a bit cumbersome if you let them get mixed up. I really liked that the cards were clean looking without unnecessary images or information. I also found the recommendation to begin with cursive writing rather than print to be very interesting. The introduction lists six advantages of beginning with cursive. Definitely something to think about!
Apparently, no subject is complete in our home without LEGOS!
The Logic of English Essentials curriculum is so jam-packed with great information that I don't see how it would be possible for a younger student to take it all in after just one time through. I envision this as something that can be used at least twice (if not more), with more depth and detail the second time around, perhaps focusing on spelling the first time and grammar the second.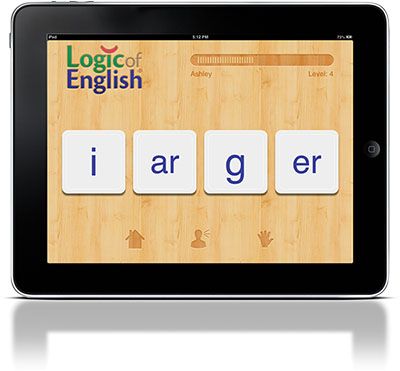 Phonics With Phonograms App
I absolutely love the Phonics With Phonograms App! There are two reasons why I am so pleased with this app:
It is saving me from having to always be the one to practice phonograms with the kids. They can easily play for 10 minutes and get some review and practice done in a short amount of time.
I've seen so many phonics programs and flashcards that have a picture of an apple and the letter 'Aa'. This is a huge problem for me because 'a' does not always say /a/ as in apple. It has two other sounds! Only 15 of the basic phonograms say just one sound. The app teaches every sound. For example the app will say /g/ /j/, now you know Gg doesn't only say /g/.
The app is very simple and, not surprisingly, it has a clean layout. A phonogram is recited and then the child taps the correct "flashcard" for that sound. This isn't the sort of app that you would purchase and expect to entertain your child for an hour. Bud (5) usually plays for about ten minutes and then he's ready to be done. But that's plenty of time for some really good practice and he thinks it is fun! You can set up multiple players and the game advances the child into the "harder" phonograms after getting correct answers. I can also use the app to pronounce a phonogram for me that I might be unsure about.
Overall
All of the products we received are of excellent quality and incredibly informative. The Essentials curriculum is also easily tailored to meet your child's specific needs. While $95 is certainly a lot of money to spend on a single book, it is one that you can reuse for many years covering the spelling and grammar rules in depth as the student matures and it won't require you buy multiple additional levels. At 539 pages, you could easily use this one curriculum for your child's entire language arts education.
Click
HERE
to watch a brief introductory video to the Logic of English Essentials curriculum.